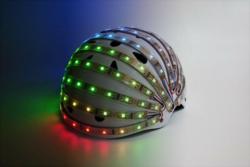 Brooklyn, NY (PRWEB) June 21, 2012
A new idea that enables bike riders to be seen may help reduce the incidence of the number of accidents involving bikers. Dutch designer Wouter Walmink hopes that the bike helmet that he helped create with the LumaHelm might be the helmet of the future. Having pedaled through Melbournes hectic streets over a year, the designer decided that he needed a helmet and decided to make a better one. The final product designed by him is a flashing headpiece with 104 multicolored LED lights that glow when a cyclists swerves towards the right or left. This helmet that is fitted with a sensor that measures the cyclists head movement and is powered by AA batteries is based on the design of the standard helmet.
LumaHelm meets Australian safety standards and movements are translated into light patterns with an Arduino microcontroller that is placed in the cyclist's pocket. The same system also makes the helmet glow when a cyclist brakes or turns. The interaction designer Mr. Walmink explains, Apart from making the helmet extremely exciting to look, my main focus was on making people more visible. Having used it myself, I do feel that people notice you more easily. The designer has also created a digital sword fighting game as well as a software that enables people to design their own products right from wallpapers to lamps. The helmet that he designed also has a number of other users, for example in the construction industry or for avid rock climbing enthusiasts who scale dangerous cliffs. His latest invention is meant to inspire and the designer does not look at it as a potential source of revenue generation.
BulbAmerica believes that it is inventions like these that represent how a new way of looking at things can change the world around us and make it a safer place to live in. Compared with sticking out a hand on a bike to indicate a turn, this helmet will helps bikers make their movements a lot more obvious, which in turn will make the situation much safer. A representative of BulbAmerica.com says, While the group is still thinking of different uses for LumaHelm and have not yet started manufacturing it, it has several uses that cannot be foreseen and this might provide the required impetus for its production.
With over 150,000 customers, BulbAmerica is the largest wholesale provider of quality lighting fixtures and light bulbs in the United States. They have been a part of the industry for almost 10 years now. The reputable company offers quality products that include fluorescent, halogen light, LED, CFL, and incandescent bulbs, projector lamps, various LED lighting options including LED strips, etc. To access their latest FAQ section and knowledge base, visit bulbamerica.com today or call 1-877-650-0775.