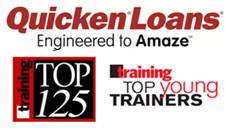 Detroit, MI (PRWEB) April 14, 2012
Quicken Loans Inc., a 50-state lender with more than 27 years experience in home loans was named to Training Magazines Annual Top 125 List for its distinguished training and leadership development programs.
"We're proud to be recognized in Training Magazine's Top 125 list recognizing companies with outstanding training and leadership, for the second year in a row. It's great to be recognized for all of the hard work put in by our trainers. It couldnt have been done without the outstanding culture we have at Quicken Loans, and the dedication of all of our team members – making sure that the clients we work with have an amazing experience, said Steve Marcero, Director of Training at Quicken Loans.
The online lenders new mortgage bankers receive eight weeks of initial training. Upon graduation, mortgage bankers have a designated full-time coach providing tips in both individual and group settings. Access to an online video library with tips from top mortgage bankers is available, as well as more than 30 on-demand training modules.
Quicken Loans received an additional honor, as Katie Mulka, Director of Training at Quicken Loans, was recognized for one of Training Magazines Top Young Trainer awards. The publication commends the top 40 training professionals age 40 and under, in addition to its annual list of companies with outstanding employee development programs.
"The success of the Quicken Loans Training Program relies heavily on Katie Mulka's leadership and her unique ability to see the big picture while obsessing about the details, Marcero commented. It's nice to see her amazing work recognized by some of the best in the industry. We couldnt be more proud of her accomplishments."
Now in its 12th year, the Training Top 125 ranks companies based on the success and creativity of their training and development programs. To be considered, companies must complete a detailed application, which is scored quantitatively by an outside data company and qualitatively by Training magazine editors and representatives. Ranking is determined by assessing the scope and financial investment of employee development, and how closely they are linked to business goals. Some of the influential factors include annual training budget, hours of training per employee, tuition assistance, technology platforms and workplace surveys.
Statistics revealed that technology supports training delivery for 96 percent of applicants, and 98 percent of the companies used personal and individual development plans.
To view the Training Magazine 2012 rankings and award recipients, visit http://www.trainingmag.com/article/training-magazine-ranks-2012-top-125-organizations
About Quicken Loans Inc:

Quicken Loans Inc. is the nations largest online retail mortgage lender and among the five largest overall retail home lenders in the United States. The company closed a record $ 30 billion in retail home loan volume across all 50 states in 2011, and has closed over 1.2 million loans. Quicken Loans employs approximately 5,000 team members and generates loan production from five web centers located in Michigan, Ohio and Arizona. The company also operates a centralized loan processing facility in Michigan as well as its San Diego-based One Reverse Mortgage unit. Quicken Loans ranked #1 in customer satisfaction among all home mortgage lenders in the United States by J.D. Power and Associates for 2010. QuickenLoans.com has been named Best of the Web by Forbes and Money magazines. The company also has been named to FORTUNE magazines list of the countrys 100 Best Companies To Work For eight consecutive years, ranking as high as #2, and named in the Top-15 of Computerworld magazines 100 Best Places to Work In Technology for six years in a row. Quicken Loans ranked #1 in the Detroit Free Press Top Workplaces of 2010 List. The company recently moved its headquarters and 1,700 of its 3,700 full-time team members to downtown Detroit. For more information about Quicken Loans, please visit http://www.quickenloans.com.
About Rock Holdings Inc:

Rock Holdings Inc. is the parent company for several financial services-related businesses and employs over 4,000 team members. These client-focused and technologically driven companies include Quicken Loans, the nations largest online home lender and One Reverse Mortgage unit, the fastest growing reverse mortgage lender in America; Title Source, a nationwide leader of title insurance and settlement services; Quicken Loans Mortgage Services (QLMS), a mortgage origination platform servicing community banks and credit unions across the country; In-House Realty, the preferred real estate partner of Quicken Loans that matches clients with trusted real estate agents in all 50 states; and, Quizzle.com, the online innovator and website where consumers manage their home, money and credit. Rock Holdings, Inc. also recently moved its headquarters to downtown Detroit.
About Training magazine:

Training is a 47-year-old professional development magazine written for training, human resources, and business management professionals in all industries that advocate training and workforce development as a business tool. Training also produces world-class conferences, expositions, and digital products that focus on job-related, employer-sponsored training and education in the working world. Training is published by Lakewood Media Group.
###
Related Video Press Releases