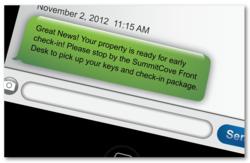 Keystone Resort, Colorado (PRWEB) October 20, 2012
SummitCove Vacation Rentals in Keystone is introducing a new feature for guests for the 2012-2013 ski season that will enhance the guest experience, making the check-in process easier and more convenient than ever. This new service sends out an SMS text message alert to the guest when the vacation rental is cleaned and ready for check-in on the day of arrival, eliminating any guessing if a vacation rental is available early.
When staying with SummitCove Vacation Rentals at Keystone Resort, guests have the ability to choose the exact property when booking. This new check-in system with real-time alerts to guests eliminates multiple check-points for guests so they can immediately know when to check-in. SummitCove offers free early check-in, whenever it is available.
Our primary concern is serving our guests to the best of our ability reports Guest Services Manager, Alyssa Hubbard. Unlike larger lodging providers, we have the unique ability for guests to choose where they want to stay. With this new use of technology, we are now able to easily overcome challenges when flights arrive early from our key markets and better accommodate our guests who wish to get started with their vacation."
SummitCove has always been very technology savvy and employs 2 full-time Software Engineers to create new and better guest experiences. SummitCove has a long history of setting the pace for others to follow in Keystone Resort. In addition to the new text message check-in feature, guests can also take advantage of easy online booking, real-time reservation calendars, and genuine face-to-face customer service. SummitCoves front desk is open 24/7 during the ski season and there is always a friendly, helpful person available for emergency services, no matter the time or season.
About SummitCove.com Vacation Lodging

SummitCove.com has been providing Vacation Rental and Property Management services in the Keystone Resort area since 2001. Unlike other lodging companies, guests can pick the specific property they'd like to stay on based on size, budget, decor, location, amenities and sleeping arrangements. With a unique pool of over 290 properties ranging from studio suites to five bedroom homes, guests are sure to find their dream property when visiting Keystone Resort.
Find More Software Press Releases